The community internship experience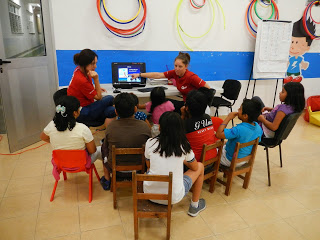 The first two months of my internship here in Playa Del Carmen have passed and they sure went by quickly! Now that I've been here for two months I am now starting to take on more responsibilities such as taking the new volunteers to the projects, attending the projects on my own and completing some courses in Class Management and Leadership Skills to better prepare me for the months ahead of increasing responsibilities.
This week I was also set the task of helping one of our Childcare volunteers to present a lesson (in Spanish) to the children at the Ludoteca about the different weather climates around the world – we focused on England and Australia which are both quite different to the climate here in Playa Del Carmen however we educated the children on how to stay warm, healthy and safe during the winter months and how to stay hydrated, avoid sunburn and also stay healthy during the summer months. The children were very helpful when we became tongue tied with our pronunciation and are always a great interactive audience, I look forward to the continuous training I'll be receiving so I can keep up with the teaching of lessons and educating the children on different issues from around the world.