The people are crazy. A good crazy.
By Martino Maluk
3 years ago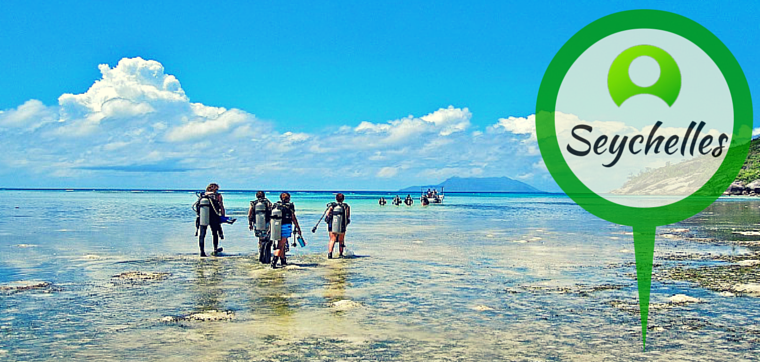 Martino writes about his time at Cap Ternay, first en español and then in English:
Después de un mes en GVI Seychelles CapTernay, hoy fue mi último día buceo. Sin embargo esta aventura comenzó llena de incertidumbre un par de meses atrás sin saber a qué me enfrentaría:
¿Quiénes son los otros dementes que me van a acompañar al otro lado del mundo?
¿Qué voy a hacer?
¿Es realmente tan mala la calidad de vida?… Quizás es peor!!
¿Estaré a la altura de los otros buceadores?…si yo no he hecho ni siquiera mi curso PADI!
La única certeza que tenía es que al menos iba a tener tiempo para acabar un par de libros.
Recuerdo como si fuera ayer cuando llegué a la base, una escuela abandonada en la mitad de la selva/playa, dejé mis cosas en mi habitación (sala de clases) y comencé las inducciones. Rápidamente algunas de las dudas se empiezan a responder.
Me acomodé fácilmente a la vida diaria ya sea gracias a los compañeros de grupo que comparten tus labores o por la buena voluntad de todos.
En un abrir y cerrar de ojos estaba llenando tanques que serán la vida bajo el agua; preparando el bote para las largas jornadas de buceo; preparando desayunos, almueroz y cenas para los voraces buceadores;limpiando baños… para que recordemos que no estamos en el paraíso, y lo más importante, buceando y descubriendo las maravillas que esconde el mar de las Seychelles. Tareas que en otras instancias serían desagradables acá pueden llegar a ser extrañamente divertidas.
La rutina se ve interrumpida continuamente por las distintas actividades en las que participamos: snorkel y actividades varias con los niños de un orfanato; clases para los niños de una escuela; paseos y caminatas variadas; actividades organizadas por los voluntarios como clases de baile, olimpiadas y noches de películas; asados y noches de fiestas para compartir y relajarnos después de una ardua semana de trabajo, cursos variados de PADI, surveying, primeros auxilios, oceanografía, etc; .
Lo que eran dudas en un comienzo hoy son certezas:
Descubrí que la gente que está en CapTernay está un poco loca… pero son buenos locos, dispuestos a compartir, escuchar, hacer estupideces…
Aprendí a hacer cosas que no hubiera imaginado
Me di cuenta de que puedo vivir con mucho menos de lo que que acostumbro
Aprendí a bucear!!!… La verdad, no importa si soy el mejor o el peor, todos respetan los tiempos y capacidades del resto.
Tendré que esperar para deborartodos esos libros que esperaba leer, tantas actividades te mantienen haciendo cosas todo el día. Un mes no fue suficiente, si pudiera vovler el tiempo atrás haría lo que fuera por organizar una estadía mayor en el programa.
In English
After one month on GVI Seychelles Cap Ternay, today was my last diving day. But is the last day of an adventure that began full of uncertainty without knowing what was I going to face:
Who are the other crazy people that are going to join me there in the other side of the world?
What am I going to do there?
Is the base really that basic? Maybe is even worse than they say!!!!
Will I be at the level of the other divers? I don't even have the PADI Open Water yet!!
The only certainty that I had was that I was going to devour books
I remember as yesterday when I arrived to the base, an abandoned school in the middle of the jungle/beach, I left my things and I started the inductions. Quickly many of the question began to being answered.
I got use to the daily life easily because of all the duty mates that share their experiences and because the goodwill of everyone in base.
Suddenly I was filling the tanks that are our life underwater; preparing the boat for those long journeys of diving; cooking breakfast, lunch and dinner for those starving divers; cleaning bathrooms… so we can remember that we are not in paradise, and the most important, diving and discovering the beauties hidden in the see of Seychelles. Duties that in other moments could be unpleasant in the base can be even weirdly funny.
The routine was continuously interrupted by different activities in which we had to participate: snorkel and activities with kids of an orphanage; lessons for kids of a school; trips and trekking; activities organized by the volunteers as salsa lessons, Olympics games and movie nights; barbecues and party nights to share and relax after a hard work week; different courses of PADI, surveying, first response, oceanography, etc. The activities were infinite.
All that in the past were doubts now are certainties:
I discovered that people in Cap Ternay are a little bit crazy… but good crazy people, with the disposition to share, hear and to silly things if applies
I learnt to do many things that I didn't imagine that I was going to do
I realized that I can live with less things than I usually do
I learnt to dive!! The true is that does not matter if I am the best or the worse, every one respect the timing and capacity of the others.