Well, 2013 crept up on us pretty quickly!
Do yourself a favour and check out a beautiful summary of 2012 by our resident photographic maestro, Ben Tupper. He has put up his top ten wildlife shots of the year on his website, most of which were taken while on research drive on Karongwe! Ben runs the GVI SanParks program but is based on Karongwe, taking out the odd research drive. Any vols with an interest in photography can have Ben give them a few pointers. Here's a taster of his gallery:
Ben captures Ketswiri in the morning sunshine 
Here at Karongwe we've been prepping for the new year by renovating the bathrooms, purchasing a new stove and de-weeding the paths. The staff team spent a week covering some training workshops, getting assessed on tracks and signs (a blog post coming soon!) and generally getting psyched for 48 weeks of volunteer action.
The new group arrived last night and are settling in to their new surrounds. It's been less than 24 hours and already Ketswiri, our resident female cheetah (Acinonyx jubatus), has chased the local impala herd through the back garden – that has to be a good omen for the year!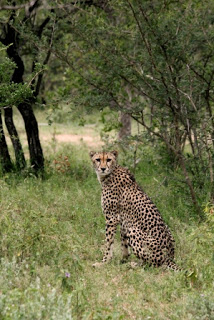 Ketswiri is currently hanging around base
Keep an eye out for more updates on the new group's exploits and a summary of a very successful day of tracking assessments.
Andreas Fox
Program Coordinator
GVI South Africa