Meet the Team: The Managers @ Pez Maya
By Jodie and Jim
3 years ago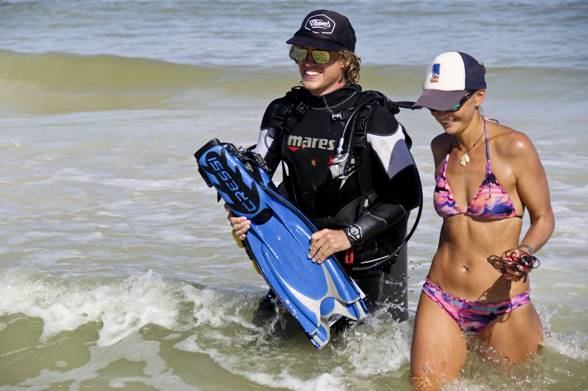 Hi! My name is Jodie. I'm originally from England, but now officially an Aussie after 10 years living in Sydney 😉 I started off in this field many moons ago studying a BSc in Marine Geography. After a few years working in marine conservation projects I went back to University to do an MSc in Tropical Coastal Management, and finally ended up doing a PGc in Environmental Education, working in community education & project management for the last 4 years. Oh and I have also done my PADI Open Water Scuba Instructor course and a Boat Captain's license along the way.
From my first ever try dive on the Great Barrier Reef in Australia in 1991 I have loved the marine environment and diving. I have been very fortunate to work and dive in many different countries around the world including the Philippines, Turks & Caicos Islands BWI, Kenya Africa, Broome Western Australia, Sydney NSW, Townsville QLD, Costa Rica, and now in Mexico.
I have experienced some incredible places, people and diving around the world, but am so happy to finally be experiencing Mexico and living on my own white sand beach. I am the Base Manager here at Pez Maya and it is my job to ensure the smooth running of base, making sure everyone is safe and happy, and managing the wonderful team of staff who really make this place what it is.
Looking forward to meeting you and sharing memories and moments if you are heading our way to Pez Maya, Mexico – welcome one and all.
Hey guys, I'm Jim, I've been here in Pez Maya for nearly a year, I arrived in January 2014 and did a three month scholarship, and have been here as staff ever since. I am the Maintenance Officer on base, so get to fix anything and everything that might break! I'm also second in command, so helping out Jodie as much as possible and the other staff around base.
So before coming to Mexico, I started diving in 2008 on my first volunteer project in Tobago, loved diving and travelling, and from there tried to do it as much as possible! I finished my degree BSc Environmental Science at Leeds University in 2011, after that I worked in Madagascar focused on marine conservation for a year. I started off as an Assistant Research Officer, but moved up to the Principle Investigator for the marine project, we were collecting data to try and introduce no-catch zones, as well as increase the knowledge of the marine environment in a very remote location. I also got my Dive Master qualification there. I then did 7 months in Cambodia as the Science Officer, collecting data around three islands to work with the local villages to create locally managed fisheries, to ensure the future fish stocks, as well as looking into the impacts of dredging and Crown of Thorns starfish on the reef. Then a quick month working in Malaysia as a DM, before coming over to Mexico!
It's a beautiful place here, so come join for some diving!