Huay Pakoot and its beautiful elephants
By Rebecca Nofolk
4 years ago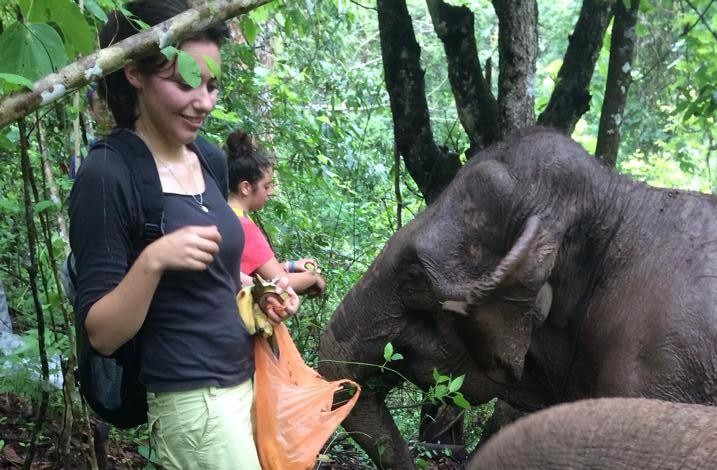 The first thing I noticed after arriving was how utterly cut off from the world this little village is. You look out from base and all you can see is a wall of trees and mountain; no roads, no lights. In the evening, the view became more spectacular. Rainy season started early, and we got to watch the storms come in; the lightening was incredible to see.
The houses and huts all built by hand, seem extremely basic and unstable at first, but it's incredible how sturdy and well built they really are. I find it hilarious, that although I live in a tiny (and very pretty) bamboo hut, I have electricity to charge my phone, and for a light inside and outside my hut. It's funny how at first sight, the village seems worlds away from normal life, and yet a 10 minute walk to the school gives you access to Wifi. There's a very strange contrast of very basic living and being able to stay connected.
My first Hike was lovely, it wasn't too long which I was grateful for, and we got to feed bananas to Khum Suk and Kha Moon, and got to know Dee, one of the Mahouts. My favorite hike so far has been the baby elephant hike. It's very funny to see Mario, the smallest of the three babies, chase after Pbee Mai, the largest, just to be close to him. Lulu, the only female baby, stayed fairly close to us for most of the time, and it was nice being able to be so close to her.
My final Ele hike of the week was to see Thong Dee, which was a crazy hike, the ground was very loose and we were often crawling upwards, or sliding downwards, generally getting pretty mucky. What I've enjoyed most from my first week is learning the culture and customs of the villagers, as well as learning Pakinyaw. I'm looking forward to teaching in the school, which is something I didn't get to try in my first week.