An American Volunteering in Nepal

Piloting in and around Pokhara: Week 1
"The swiftest Hours, as they flew" (Shakespeare), for a week has come and gone as I was welcomed into the GVI Nepal Family with three other new volunteers, venturing into a new country untraveled before.  In the town of Pokhara, up the main lakeside road past the cow park, just off the main course away from most travelers, stands the house that has become my new home, where people reside from all different backgrounds all sharing a common desire to help and make a difference in the lives of others.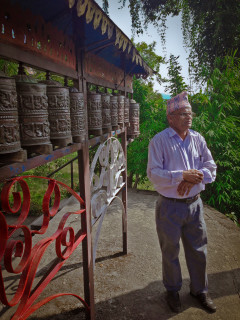 The Welcome
For those GVI volunteers you already know the daily lifestyle as a volunteer so this paragraph will just be a recap so you can skip over this or perhaps reading this will bring you back and you can reminisce to your first couple of days arriving into Nepal.  However, for those who have never been apart of the GVI Nepal team, you are in for a unique experience! All newbies arriving are integrated slowly into the life as a GVI volunteer and first step, besides reading risk assessments, is to receive a basic introduction to the culture of Nepal.  Meeting the kindhearted Chet, the Nepali instructor, we learned the basics of the Nepalese language in two sessions.  Assisting his father, Chet's son briefed the group on some cultural practices of Nepali and he will do a brilliant job teaching when taking over for his Dad.  Sitting in the garden, it is clear to recognize Chet's passion for teaching, especially to Westerners, from his expressions and excitement in his voice during his instruction. Opening up his home, cooking 'Mi Tho' Dal Bhat, a tasty traditional Nepali dish for lunch followed by a short cultural trek through his home village brings to light one man's life in this town, away from the tourist attractions, outside the normal travels that you wouldn't necessarily experience.  From our lessons, Chet had me introduce myself to all the locals passing by; "Mero naam Kim ho. Mero des America ho. Ma Helicopter Pilot ho." And of course a Nepal cultural introduction would not be complete without some strolling around old town, picking out fabric to make kurta and an hour lesson on a traditional Nepali Dance!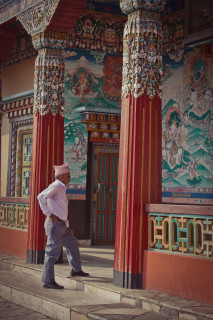 GVI on Instagram
Sorry:

- Instagram feed not found.