12/01/13 Festive Downtime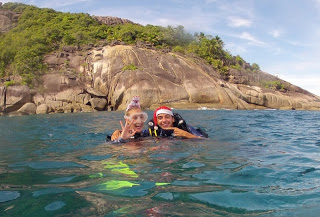 The quiet that descended after everyone left for Christmas seemed very strange at first for the few members of staff left behind to hold the fort. However, after a day of relaxing and recuperating, we began on giving Cap T her yearly make-over; servicing all the equipment,
tidying, dusting and cleaning. The kitchen was even re-painted, and all in one day thanks to a great team effort! Change also occurred inside and out as we unfortunately had to bid farewell to some of our cherished staff members. However, this meant we also welcomed in some new members too, so Cap T starts the new year with a new face! Many of the staff had the opportunity to visit friends and family back home during the festive period, while the rest of us donned santa hats in the heat and even on some dives!
Two of the Cap T members went over to Curieuse to visit their fellow co-workers and help out with jobs. Much of the work was on a similar note, however with big plans for the Curieuse base there was much more work to go around! Some of these, like concreting and wood staining, were more labourious than others, such as turtle walks. Luck was on our side as we were fortunate enough to pass a nest just as the hatchlings were beginning to emerge, and we managed to see the entyre process from the first hatchling to the last. We were sad to leave the stunning and serene island that is Curieuse. When the tourists leave in the early evening it feels like a world apart as you watch the sun set behind Praslin from the platform on the beach. We will also miss the Curieuse staff who made our stay so much fun and so enjoyable. We only wish that we could visit them more often!
Meanwhile, things back at Cap T have been far too quiet and we are looking forward to meeting our new team of volunteers!