Island Conservation Expedition to the Seychelles
Contribute to island conservation efforts and experience an unspoilt island paradise!

Our Impact
Location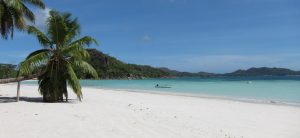 Mahe and Curieuse
Experience the beautiful Indian Ocean paradise of the Seychelles islands. We operate two bases in the inner granitic islands, both within National Marine Parks next to stunning palm-fringed beaches and forested areas. Our Cap Ternay marine expedition base is located on the NE coast of Mahe adjacent to the spectacular Baie Ternay Marine Park. Curieuse Island and its surrounding waters are rich in wildlife, the setting for terrestrial and construction programs. The paradise of the Seychelles is the ideal location to volunteer, gain new skills on our internships or enjoy a short volunteer holiday in a well-preserved and tranquil tropical archipelago.
Program Information
Travel to Curieuse Island and join one of the leading marine and terrestrial data collection organisations in the Seychelles. Take part in critical research and conservation research within a national park and help support the creation of conservation policies. Live amongst some of the most beautiful scenery in the world as you work with endemic flora and fauna while also contributing towards the long-term survival of endangered species such as the hawksbill turtle.
Overview
Project Life
Project Details
Free Time
The Team
Dates & Costs
Overview
Curieuse Island and its surrounding waters are a national park, managed by our principal in-country partner, Seychelles National Parks Authority. Our beach-front camp is located on the white sand beach of Anse St Jose and overlooks Praslin (Seychelles' second largest island), a short boat ride away.

Join a team of international volunteers as an expedition member and volunteer, assisting on priority conservation projects. You will work with an abundance of flora and fauna whilst living the island life, surrounded by the striking azure waters of the marine park.

Work with the critically endangered sea turtles which nest on the island; study nesting success in Hawksbill and Green turtles, collect data such as tag numbers, carapace (shell) measurements and number of eggs laid or carry out nest excavations to measure hatching success. Help us track down Sickle-fin Lemon shark pups for our catch-and-release project, gathering population and growth rate information on this understudied species. Record the rate of coastal erosion with our beach profiling surveys. Collect growth and reproductive data for the endemic and unique Coco de Mer palm tree. Assist in our annual census of the island's Aldabra Giant tortoise population and keep tabs on the growth rates of hatchlings and juvenile tortoises in the nursery.

If you are looking to learn more about conservation, contribute to a meaningful project and want to spend some time in an incredible location, you don't have to look any further. Our monitoring program and work schedules change seasonally; which projects are available will depend on the time of year you visit - speak to our team for further details.

Highlights

Living in one of the most visually stunning countries in the world, working alongside local partners, getting up close and personal with the island's amazing wildlife: watch as a female Hawkbill turtle crawls out of the sea to lay her eggs, help sea turtle hatchlings in their journey to the sea or release a baby shark after collecting valuable measurements. Climb into a Coco de Mer Palm with stunning views over the bay, take a minute to unwind in the company of the island's gentle Giant tortoises or relax with a swim in the Indian Ocean at the end of a hard days work. Snorkel in crystal clear waters alongside coral, fish, turtles, eagle-rays and reef sharks, and spot dolphins from the boat. Hike to the top of Mount Curieuse for a stunning panorama, or visit the UNESCO World Heritage Site - Vallee de Mai. Spend your free time exploring neighbouring islands, sign-up for a try-dive or add some more to your logbook at a local PADI centre. Experience breath-taking sunsets, make life-long friends and have an amazing and unique adventure amongst some of the most beautiful scenery in the world.


Testimonial
"I gained invaluable field surveying experience which helped to solidify what I want to spend the rest of my life doing. I have applied to university to study Environmental Science and hopefully pursue a career in environmental research."
GVI Live
These updates cover all programs in this location
GVI Seychelles
GVI CURIEUSE: Turtle nesting season may be slowing down but the last few days have seen our volunteers measuring... https://t.co/kYh7U8wCV5
2 hours ago
GVI Seychelles
GVI CURIEUSE: Read about the adventures that volunteer Liam has been having out on survey here on Curieuse.... https://t.co/IDnxkM5wzi
1 day ago
Mahe and Curieuse Video
GVI Blogs
Project Life
This expedition covers a wide range of conservation efforts as you rotate between projects. You will spend the majority of your time on foot working in the forests and on the beaches, experiencing different field techniques and varied project sites.

At the end of each workday, you will return to our base with the rest of your team to relax together. You will share camp duties on a rotational basis, as well as sleeping in shared dormitory style accommodation.

You should expect to work 5 ½ days each week, Monday to Friday, with weekends free for you to explore the surrounding area, snorkel, dive or just enjoy island living.
What's Included
24-hour emergency phone

24-hour in-country support

Access to Alumni Services and Discounts

Airport pick-up (unless otherwise stated)

All necessary project equipment and materials

All necessary project training by experienced staff

First Aid & CPR training

Live and work in a protected reserve under GVI

Location orientation

Long term experienced staff

Meals while on project (except on work placements for long term internships)

Safe and basic accommodations (usually shared)

Welcome meeting

Wildlife research training
What's Not Included
Additional drinks and gratuities

Airport transfers

Extra local excursions

Flights

International and domestic airport taxes

Medical and travel insurance

Personal kit

Police or background check (where necessary)

Visa costs
Project Details
On this expedition, you will focus on several key conservation efforts within and around the Curieuse Island National Park which may include the following:
Lemon Shark Project 
The mangrove system on Curieuse Island is an important nursery ground for the sicklefin lemon shark (
Negaprion acutidens
). GVI Seychelles is conducting a capture and release study of the shark population using P.I.T. tags and acoustic tracking. Presently, very little is known about these creatures and we hope to answer many questions such as what time of the year do they pup, what is the survival and growth rate and in which areas are they found.
Coco de Mer Survey
The endemic Coco de Mer has the largest seed of all living plants and is found only on the islands of Praslin and Curieuse. Following on from a successful census of the trees covering Curieuse Island the GVI team is now conducting a growth study of these charismatic palms.
Mangrove Distribution Surveys
Curieuse Island has one of the largest remaining area of mangrove forest left within the Seychelles inner granitic islands. GVI Seychelles is investigating seedling recruitment and mortality, and further determining species distribution across the mangroves.
Giant Tortoise Census
Giant tortoises were relocated to Curieuse Island in the 1980s as part of conservation efforts to protect the species. Over the last thirty years, the population has reproduced successfully and spread throughout the island. GVI conducts an annual census of the tortoise population and records key measurements on growth and distribution.
Hawksbill Turtle Surveys
Curieuse Island has some of the most important hawksbill turtle nesting beaches within Seychelles. Throughout nesting season, GVI conducts patrols of the beaches, recording data on nesting turtles and tagging females.
In conjunction with the Seychelles National Parks Authority, you may also find yourself participating in various educational campaigns and activities including mangrove replanting, endemic flora re-vegetation, beach cleans and environmental education classes.
How this project makes a difference:
Our partner 
on
 this programme is the Seychelles National Parks Authority. Data collected from your efforts will be passed to the Seychelles Ministry of Environment and participating NGOs to be used in creating local conservation policies and shared worldwide with other conservation teams and efforts.
In conjunction with our partners, we are one of the leading marine and terrestrial data collection
organisations
in Seychelles. We help local
organisations
execute projects that they do not have the manpower to do alone.
What's Included
24-hour emergency phone

24-hour in-country support

Access to Alumni Services and Discounts

Airport pick-up (unless otherwise stated)

All necessary project equipment and materials

All necessary project training by experienced staff

First Aid & CPR training

Live and work in a protected reserve under GVI

Location orientation

Long term experienced staff

Meals while on project (except on work placements for long term internships)

Safe and basic accommodations (usually shared)

Welcome meeting

Wildlife research training
What's Not Included
Additional drinks and gratuities

Airport transfers

Extra local excursions

Flights

International and domestic airport taxes

Medical and travel insurance

Personal kit

Police or background check (where necessary)

Visa costs
Free Time
Volunteering with GVI not only allows you to participate in programmes assisting disadvantaged communities or endangered
ecosystems, but
it also offers wonderful opportunities to travel in the local area in your downtime or further afield either before or after your programme. Below is some information on trips and travel options in the Seychelles.
Optional Side Trips
Volunteers may have the opportunity to visit the islands of Praslin and La Digue. Praslin is home to the Vallee de Mai (a world heritage site)
thought
by early explorers to be the original "Garden of Eden", that is
home
of the famous Coco de Mer palm tree that produces the huge double nut famous for its provocative shape. La Digue is the picture perfect tropical island, small and intimate with quaint guest houses and arguably the most beautiful beach in the world - Anse Source d'Argent.
Public transport is cheap and frequent and many parts of Praslin can be explored easily by catching a bus.
Further Travelling Opportunities
With 115 islands in the Seychelles group stretching over 800 miles, the possibilities of exploring this tropical paradise are endless. The inner islands, situated closer to Mahe are easily accessible by fast ferry. Praslin, La Digue, Silhouette, Felicity and Sister, to name a few, all have their own unique charms with hotels and guest houses within most people's price range.
The outer islands such as Desroche, Bird, Dennis, Farquar and the Amirantes group are harder to get to and can only be reached by small plane or charter yacht. Most have small exclusive resorts which can be extremely expensive, but the marine environment and bird life at these outposts of civilization have been barely marked by the hand of man, and as such are in a pristine condition rarely found anywhere in the world today.
The Team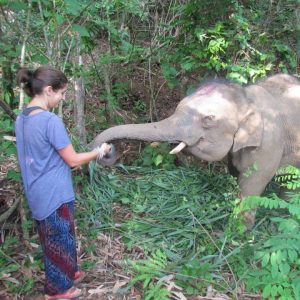 Amy Bradley
Science Officer
Meet Amy, our passionate wildlife lover and science officer here in the Seychelles. With a university degree in Wildlife Conservation with Zoo Biology, she brings some valuable knowledge to the project.

During her studies Amy also managed to do some summer volunteering at small wildlife sanctuaries in the UK. She has been involved with GVI since 2013 when she took part in a 6 month conservation internship in Costa Rica with GVI Jalova. Following this, in 2014/2015 she spent a year working for GVI Chiang Mai in Thailand at our Elephant Reintroduction Project.

What is her favourite part about working for GVI? "The number of amazing experiences that being part of a GVI project allows you to have, the amount of amazing animal encounters I have had and the amazing friends I have made from all over the world."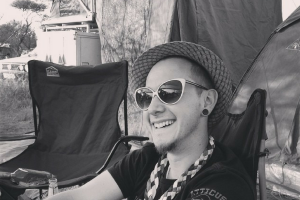 Michael Nel
Senior Country Expert
Meet Michael, our laid-back country expert for our South African wildlife and Seychelles marine hubs. He is passionate to make a difference in the world and GVI's dedication to make a long-term impact in the field sparked his interest.

Mike is a keen diver and has had the opportunity to travel to the Seychelles as well as various other stunning dive locations to explore the underwater world. If not diving he enjoys spending time in game reserves and loves being surrounded by nature.

If sarcasm is your thing, Mike will ensure for endless entertainment! He's also quite the music enthusiast and has an impressive knowledge of different genres. His favourite travel memory? "Flying over the Okavango Delta and witnessing the vastness and beauty of Botswana."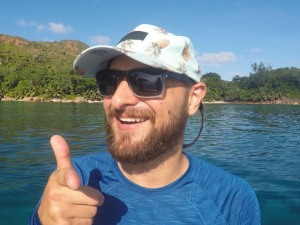 Peter Kowalski
Science Officer
Meet Peter, our Science Officer in Seychelles. Peter previously volunteered with GVI in Costa Rica and has extensive experience working with and researching green turtles in Canada, USA and Taiwan.

This well-travelled nature lover has also created a short nature documentary related to turtle conservation. He holds a Master of Science in Marine Biology and can speak a total of four languages!

"I was first attracted to GVI by the exciting research being conducted on Curieuse, as well as the chance to work for an organisation that aids and empowers local communities in the management of their marine resources."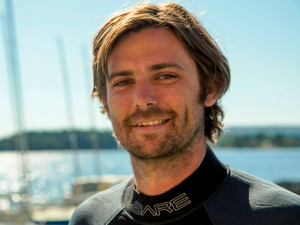 Lee Hankinson
Science Officer
Meet Lee, known as Hankypank, our Science Officer in the Seychelles. Lee has a Bachelor of Science Zoology from James Cook University in Australia and a Masters degree in Ecology from the University of Life Sciences in Norway. He spent the last 5 years working as a Marine Biologist / Environmental Consultant in Norway. Much of his time was spent mapping newly discovered deep-sea coral reefs and sponge beds off the Norwegian coastline in order to protect them from oil and gas exploration.

He wanted to work with passionate people who are professionals in the field of conservation. "I also wanted the opportunity to travel to an amazing location somewhere on the other side of the world. GVI provided this and has such an outstanding reputation so I made it my number one choice as an organisation to work for."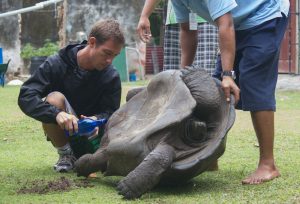 Chris Mason-Parker
Country Director
Meet Chris, our Country Director for Seychelles. Chris first joined GVI back in 2009 as Field Staff on a Marine Conservation Expedition in Mexico before transferring to Seychelles a year later.

Chris says there have been numerous highlights to working for GVI, not least the opportunity to encounter some amazing creatures, including whale sharks, giant tortoises and nesting turtles. The most satisfaction though has been seeing the Seychelles programmes develop and diversify over the years. Today GVI Seychelles projects are conducting research and collecting critical data on numerous species within a variety of habitats; an achievement that would not be possible without the volunteers.

Chris' favourite part of the job is its unpredictability from one day to the next. Whether it is meeting with project partners and government ministers, or standing knee deep in murky water attempting to catch a lemon shark, no two days are ever the same!
Mariliana Leotta
Base Manager
Mariliana had been in the GVI family for nearly two years before joining the Seychelles team, having previously held the role of Base Manager for the Costa Rica Jalova wildlife projects. But it was no surprise when she applied to come back to the Seychelles to get back into marine conservation work. Mariliana started her ocean career with a Masters of Science in Biological Science, later becoming a PADI dive instructor, underwater videographer, and dive centre manager for many years.

She has also been a professional traveller for nearly three decades, spending long periods of time in Indonesia, Egypt, Seychelles, Costa Rica, Mexico, and many other countries. Now that she's back in the Seychelles for the third time, she can't wait to lead a team of conservationists in one of her favourite countries.
Daniel Ponce-Taylor
Director of Programs
Meet Danny, our Director of Programs. Although he's based in Playa del Carmen, Danny oversees the development and running of all of our field operations. He started out with GVI as our Country Director in Mexico and quickly became an invaluable part of the team.


Although being Director of Programs is a pretty demanding job, Danny manages to find time to do the other things he loves in-between. He's an avid photographer and is always training for a triathlon or ironman.


What's Danny's favourite aspect of his job? "Starting new projects – we get lots of request for assistance and it's difficult to decide when funds are limited. The evaluation process and those initial talks with local partners are very interesting. Seeing projects grow from an idea to full programs is very exciting. I also love the relationships you create with local organisations, they become friends and we jointly work to achieve the project aims."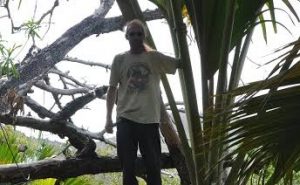 Alan Grant
Base Manager
Alan joined GVI as the Curieuse Island Terrestrial Conservation Project Science Officer in April 2014. Since completing his degree in Aquatic Bioscience at Glasgow University in Scotland he has spent several years living and working in field stations in a variety of science, management and technical roles in Scotland, the Bahamas and Turks & Caicos Islands. He has always had a passion for tropical island field projects, so following a five year spell as a Park Ranger back home the Curieuse base was an excellent step to take.
Alan loves the challenge of island life, and the more remote the better. When not out in the
field he
can commonly be found up a ladder, in a water tank or somewhere in the workshop! He also gets a lot of satisfaction out of getting to know the constant stream of new volunteers and sharing his fascination with them of all that Curieuse has to offer, on camp, on the terrestrial surveys, and in and on the water.